The Tank Brewing Company opens long-anticipated tasting room in Miami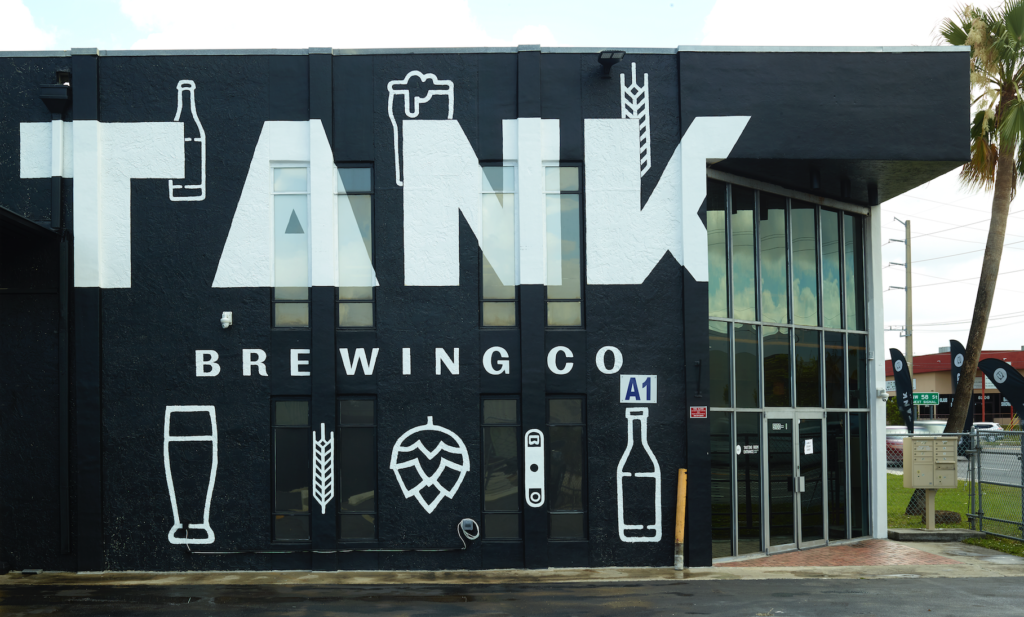 ---
Published at: May 8, 2017
The Tank Brewing Company, one of Miami's newest and most exciting breweries, is officially open. It's located at 5100 NW 72nd Avenue just north of Miami International Airport. The 25,000 square foot, 120-seat brewery features up to 16 beers on tap, including its popular core brews, seasonal and special releases, as well as guest taps from regional breweries. With a total capacity of up to 600, the tasting room offer guests the opportunity to view The Tank's entire brewing process from every seat. The venue also hosts events and activities for people of varied interests, and is available for private parties and corporate functions.
The Tank Brewing Company's owner Carlos Padron and his team have been working over two years to fully bring the brewery to life. Inspired by Miami's unique flavors and influence, The Tank's beers are expertly crafted using only the finest ingredients from mash to tap, and made by combining the latest technology in brewing innovations with superior attention to detail and time-honored brewing techniques. In May 2016, The Tank launched its core craft beers – La Finca Miami, Freedom Tower Amber, and El Farito IPA – which have become a staple at more than 250 South Florida bars, restaurants and establishments. Recently, due to overwhelming demand, the brewery ordered additional tanks for its cellar, doubling its production capacity.
"We are so excited to finally open The Tank Brewing Company's tasting room and welcome beer enthusiasts, locals and tourists alike," said Padron. "Miami is a diverse city where you can find interesting people from all walks of life, and this 'eclecticism' mirrors the way that our beers come together, and how we want them to be enjoyed. We want guests to feel comfortable at The Tank as they enjoy our beers right where they are crafted," added Padron.
"Those who enjoy La Finca Miami, Freedom Tower Amber, or El Farito IPA will taste the flavors of tradition, artistry, and fellowship; what we call our liquid innovation," said Matthew Weintraub, The Tank's head brewer, and a former adjunct professor at Florida International University's state-of-the-art brewing science lab. "From the purity of the water and the extensive care that is taken in curating ingredients, to the thinking behind our craft beer names, our goal is to ensure quality and consistency in every sip," added Weintraub.
Twisted Fork Kitchen, led by Chef Richard Plasencia, will offer guests a menu created especially for The Tank, featuring a variety of flavors to pair with the brewery's signature beers. "I wanted to create a menu founded in progressive American cuisine without pretension or stuffiness," said Chef Richard Plasencia. "Our goal is to take guests on a journey using food as the catalyst – with playful dishes that introduce new flavors and complement The Tank's stellar beers," added Plasencia.
A first in the industry, The Tank also features a Cigar Shop and Lounge where guests will find some of the world's top-rated cigars, including Plasencia, Rocky Patel, Aging Room, Casa Magna and Alec Bradley, to name a few.
To celebrate its opening, The Tank will host a series of events throughout May, including an official grand opening celebration on Saturday, May 20, where guests will enjoy live entertainment, great food, and the exclusive chance to taste a "special release" beer.
The tasting room is open Monday through Thursday, from 4:00 p.m. to 11:00 p.m.; Fridays, 4:00 p.m. to midnight; Saturdays, noon to 1:00 a.m.; and Sundays, noon to 10:00 p.m.
Guests are invited to share photos and comments using #SipAndDiscuss on The Tank's social channels: @TheTankBrewing on Instagram, The Tank Brewing Company on Facebook, and @TheTankBrewing on Twitter. For additional information, visit TheTankBrewing.com
About The Tank Brewing Company
Founded by Carlos Padron with brewers Matt Weintraub and Moh Saade, Miami-based The Tank Brewing Company embodies a homegrown passion for brewing honest, expertly-crafted artisanal beer using only the finest ingredients from mash to tap; from the purity of the water to the extensive care that is taken in curating ingredients. Every drop, every step of the process, and every detail are tended to with pure love of beer in mind — and you can taste it in every sip. The Tank's popular core beers La Finca Miami, Freedom Tower Amber and El Farito IPA were all inspired by the brewers' love for their hometown, Miami.
About The Tank's Beers
La Finca Miami is a crisp and refreshing wheat ale inspired by the "saison" beer style, originally brewed by the farmers of Belgium. The Tank chose the Spanish "La Finca," which roughly translates as "the farmhouse estate" to honor this heritage. Like the farmhands who labor together tirelessly to yield a fruitful crop, the combined efforts of numerous people from diverse backgrounds have crafted Miami into the cultural gem that it is.
Freedom Tower Amber is named after Miami's most iconic building and the freedom that it symbolizes to many who have sought refuge in the city. Freedom Tower Amber sports a gorgeous red hue, and features lush caramel-malt flavors, with hints of peach and apricot on the finish.
El Farito is a reference to the beloved Cape Florida lighthouse, the oldest standing structure in Miami. Originally built in 1825, El Farito has been rebuilt and relit multiple times throughout its history, and stands as a symbol of Miami's endurance. El Farito IPA boasts an intense hoppy nose of citrus and tropical fruit over a subtle honey-like base. This bright IPA will satisfy your hop fix anytime of day.
Source: http://letseatmiami.com/the-tank-brewing-company-opens-long-anticipated-tasting-room-in-miami/