THE​ ​TANK​ ​BREWING​ COMPANY​ ​TO​ HOST​ ​THE​ ​FIRST​ ​EVER​ SOUTH​ FLORIDA​ CRAFT​ BEER​ ​5K​ RUN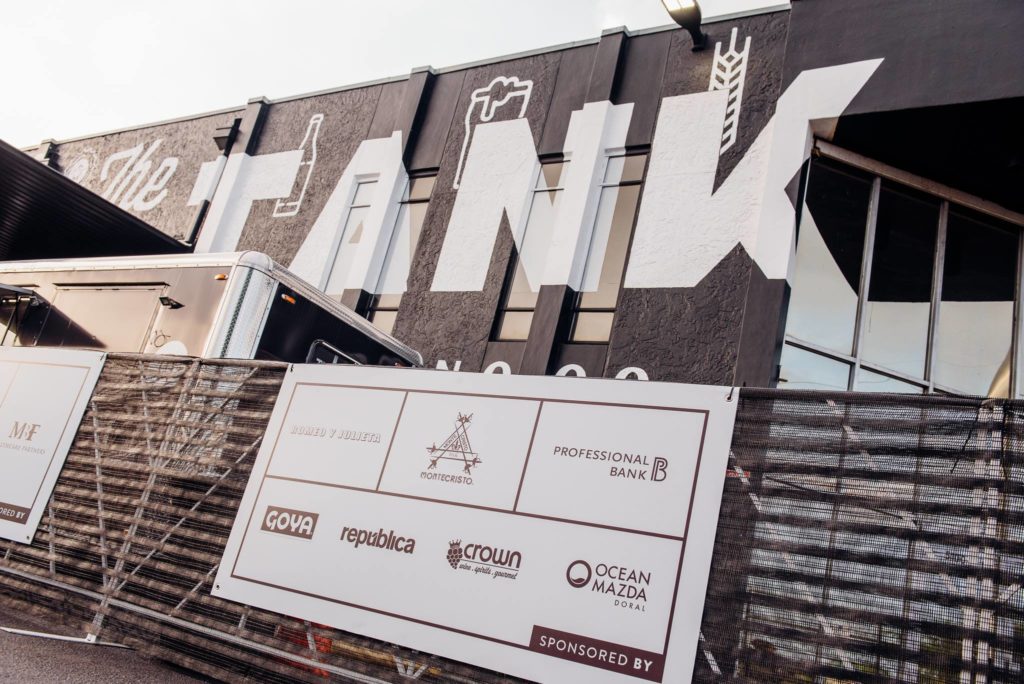 ---
​The​ ​Tank​ ​Brewing​ ​Company​ ​is​ ​joining​ ​forces​ ​with​ ​​Frankie​ ​Ruiz,​ ​co-founder​ ​of the​ ​Miami​ ​Marathon​,​ ​to​ ​bring​ ​the​ ​first​ ​ever​ ​Craft​ ​Beer​ ​5K​ ​Run​ ​to​ ​South​ ​Florida.​​ ​The​ ​race​ ​is​ ​open​ ​to everyone​ ​–including​ ​runners​ ​and​ ​beer​ ​lovers​ ​of​ ​all​ ​kinds–​ ​and​ ​will​ ​depart​ ​from​ ​The​ ​Tank​ ​Brewing​ ​Co.​ ​on Saturday,​ ​September​ ​30​ ​at​ ​6:00​ ​p.m.​ ​The​ ​n​et​ ​proceeds​ ​of​ ​the​ ​Run​ ​will​ ​benefit​ ​two​ ​South​ ​Florida-based nonprofit​ ​organizations,​ ​Amigos​ ​For​ ​Kids,​ ​an​ ​organization​ ​dedicated​ ​to​ ​child​ ​abuse​ ​prevention​ ​and strengthening​ ​families,​ ​and​ ​Live​ ​Like​ ​Bella​ ​Foundation,​ ​which​ ​supports​ ​childhood​ ​cancer​ ​research.
"We​ ​are​ ​extremely​ ​excited​ ​to​ ​team​ ​up​ ​with​ ​Frankie​ ​Ruiz​ ​to​ ​create​ ​the​ ​first​ ​ever​ ​Craft​ ​Beer​ ​Run​ ​in​ ​South Florida,"​ ​said​ ​Carlos​ ​Padron,​ ​owner​ ​of​ ​The​ ​Tank​ ​Brewing​ ​Company.​ ​​ ​"We​ ​are​ ​proud​ ​that​ ​the​ ​craft​ ​beer community​ ​is​ ​coming​ ​together​ ​on​ ​this​ ​very​ ​special​ ​day​ ​to​ ​benefit​ ​two​ ​worthy​ ​organizations,​ ​Amigos​ ​For Kids​ ​and​ ​Live​ ​Like​ ​Bella,"​ ​added​ ​Padron.
"It​ ​is​ ​an​ ​honor​ ​for​ ​us​ ​to​ ​bring​ ​the​ ​community​ ​together​ ​for​ ​the​ ​inaugural​ ​South​ ​Florida​ ​Craft​ ​Beer​ ​Run,​ ​all while​ ​supporting​ ​two​ ​important​ ​children's​ ​causes,"​ ​commented​ ​Frankie​ ​Ruiz,​​ ​co-founder​ ​of​ ​the​ ​Miami Marathon​.​ ​"Bringing​ ​together​ ​the​ ​community's​ ​love​ ​for​ ​fitness,​ ​running,​ ​craft​ ​beer,​ ​food,​ ​and​ ​culture​ ​is something​ ​that​ ​Carlos​ ​Padron​ ​and​ ​I​ ​have​ ​been​ ​wanting​ ​to​ ​do;​ ​and​ ​seeing​ ​it​ ​come​ ​together​ ​for​ ​the​ ​first time​ ​is​ ​wonderful."
The​ ​post-race​ ​celebrations​ ​will​ ​include​ ​a​ ​festival​ ​with​ ​local​ ​breweries​ ​offering​ ​a​ ​sampling​ ​of​ ​their​ ​brews, food​ ​by-the-bite,​ ​live​ ​music,​ ​and​ ​games.​ ​​ ​Participating​ ​breweries​ ​include​ ​The​ ​Tank​ ​Brewing​ ​Company, MIA​ ​Beer​ ​Company,​ ​Funky​ ​Buddha​ ​Brewery,​ ​J.​ ​Wakefield​ ​Brewing,​ ​Biscayne​ ​Bay​ ​Brewing​ ​Company, Concrete​ ​Beach​ ​Brewery,​ ​​Wynwood​ ​Brewing​,​ ​​26​ ​Degree​ ​Brewing​ ​Company​​ ​and​ ​Miami​ ​Brewing Company.​ ​Training​ ​runs​ ​will​ ​be​ ​coordinated​ ​at​ ​all​ ​participating​ ​breweries​ ​from​ ​now​ ​until​ ​race​ ​day.
Supporting​ ​sponsors​ ​and​ ​partners​ ​include​ ​Ryder,​ ​MBF​ ​Healthcare​ ​Partners,​ ​Gold​ ​Coast​ ​Distributors, Altadis​ ​U.S.A.​ ​Premium​ ​Cigar,​ ​Goya​ ​Foods,​ ​Crown​ ​Wine​ ​and​ ​Spirits,​ ​Professional​ ​Bank,​ ​Republica,​ ​and Ocean​ ​Mazda.​ ​Sponsorship​ ​opportunities​ ​are​ ​still​ ​available.​ ​For​ ​more​ ​information,​ ​please​ ​contact info@TheTankBrewing.com
Those​ ​interested​ ​in​ ​registering​ ​for​ ​the​ ​South​ ​Florida​ ​Craft​ ​Beer​ ​Run,​ ​should​ ​visit SouthFloridaCraftBeerRun.com​.​ ​​ ​The​ ​$30​ ​registration​ ​fee​ ​includes​ ​race​ ​t-shirt,​ ​medal,​ ​and​ ​one complimentary​ ​beer,​ ​along​ ​with​ ​other​ ​swag​.​​ ​For​ ​an​ ​additional​ ​$10​ ​donation,​ ​participants​ ​will​ ​receive​ ​a pair​ ​of​ ​Live​ ​Like​ ​Bella​ ​commemorative​ ​socks​ ​to​ ​sport​ ​on​ ​race​ ​day.
Source: http://www.floribrew.com/index.php/events/519-tank-5k