Tank Brewing Company opens 'tasting room'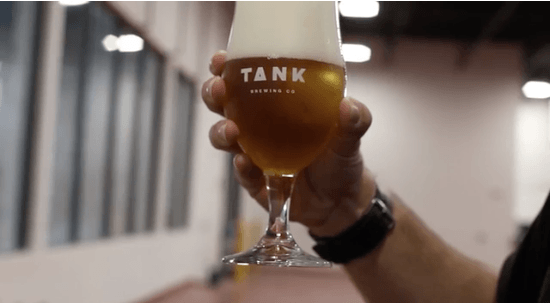 ---
Phillip Valys
SouthFlorida.com
Inside a cavernous Miami warehouse, beer-minded patrons puffed on Plasencia cigars and sipped craft brews poured by the Tank Brewing Company, which unveiled its new taproom to the public on April 28.
At 5,000 square feet, the brewery's "tasting room" opened in a warehouse district near the Miami International Airport. The tasting room stands among the largest in the city, distinguished by rows of flat-screen TVs, leather chairs and wood tables fashioned from overturned electrical-wire spools.
The tasting room's opening arrives a year after the Tank opened its 25,000-square-foot brewery and began selling its beers to 180 bars and restaurants via Pompano Beach-based Gold Coast Beverage Distributors. On opening night, about 450 beer drinkers filled the tasting room, says Matthew Weintraub, the Tank's brewmaster.
"We're in the middle of unincorporated Miami-Dade, but who cares? People travel for beer," says Weintraub, an alumnus of Florida International University's student-formed beer club B.R.E.W. FIU. "People will travel for the experience."
The Tank came together with help from brewer Moh Saade and Carlos Padron, a real-estate lawyer with ties to the cigar industry. Padron's stamp on the Tank can be found in the tasting room's 500-square-foot cigar bar, a temperature-controlled lounge stocked with 125 varieties of cigars. The lounge also debuted April 28.
For now, the tasting room will include 16 beers, including a Double India Pale Ale, the Tank's bestselling beer; its El Farito IPA; La Finca, a golden Belgian-style saison; the Freedom Tower, a crisp amber ale with notes of caramel, toffee and apricot; an Abbey Six Belgian-style dubbel; Byronic Brown, an English brown ale inspired by poet Lord Byron, a prolific cigar smoker; and Rye-lingual, a spicy, rye-flavored stout.
Because the Tank has few restaurants nearby, the brewery's new in-house restaurant, the Twisted Fork Kitchen, will serve tapas and gastropub-style fare.
The Tank Brewing Company's taproom will be open 4-11 p.m. Monday-Thursday, 4 p.m.-midnight Friday, noon-1 a.m. Saturday and noon-10 p.m. Sunday, at 5100 NW 72nd Ave., Bay A-1, in Miami. Call 786-801-1554 or go to TheTankBrewing.com.
Source: http://www.southflorida.com/restaurants-and-bars/drinking/sf-tank-brewery-taproom-opens-doral-20170428-story.html